Roll over image to zoom in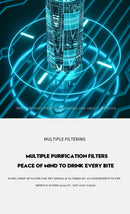 Description
SPECIFICATIONS
With Water Dispenser: Yes
Type: cats
Time Setting: No
Power Source: CHARGE
Origin: Mainland China
Min Output: 100g
Max Output: 100g
Material: Stainless Steel
Automatic Cat Water Fountain Wireless Sense Dog Drink Bowl Portable Rechargeable Dispenser Pet Drinking Fountain for cats Feeder
Filter Replacement Time:
1.The Charcoal Filter it is better to be exchanged every month to achieve good filtering effect.
2.In intelligent sensor mode, Charcoal Filter better to be exchanged every 1-2 months.

About Motion Sensor:
1. Automatically turn on the running water when the pet approaches, leave the sensing range 2-3 meters away, filter for 60 seconds, and then automatically stand by.
2. Advantages: silent, energy saving, prolong the service life of the filter element and the water pump, and can better attract pets to drink more water.
3. Induction range: use range of about 0.2-3 meters.
4.Install: suction cup or paste.

Friendly Tips:
Please clean the pump regularly to extend life.

Operating sensor: Hold the round head of the sensor with the palm of your hand without light for 60 seconds, the water flow of the water dispenser will stop.

1-Charge Mode:
The battery is low when the yellow light is on.
The battery will not work when the red light is on.
Need to charge.

2-Standard Mode:
Flicker into standard mode twice
The light is always on without interruption.

3-Timed Mode:
The timing mode flashes brightly twice.
Pump output (15 minutes of work one)
(water out time:15 S)

4-Induction Mode:
Flashing light enters Smart Mode
Suck the lamp and wait for the pet to approach.
Always turn on the light and the water comes out.

5-Settings Button:
Power on and click to turn on, 
default Count in Smart Mode Click Smart Switch Induction Mode,
Double-click - -Smart Switch Timed Mode,
Three-click- - intelligent switching timing mode

6- Filter Mode:
Yellow light is always on: the filter needs to be replaced.
After the core is replaced, press the button 5 seconds, yellow light Go out, Reset successfully!