Roll over image to zoom in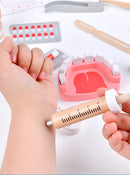 Description
SPECIFICATIONS
Warning: Chocking Hazard! Not for Kids under 3 Years
Recommend Age: 3-6y
Package: Cloth Bag
Origin: Mainland China
Model Number: Pretend Toy
Material: Wood
Material: Main Wood
Item Name: Dentist Bag
Gender: Girls
Function: Pretend Play Toy,For Baby Interest development
Feature: Pretend Play Toy,Doctor Toy for Children,Doctor Kit,Wooden Pretend Play Kit,Medicine Toy Bag,Doctor set for kids,Doctor bag toy,Dentist toys for kids,Children's medical kit,Toys for Girls,Imitation Games,Hospital play,doctor costume kids,kids toys,doctor toys
Brand Name: QXLRM
Accessary: 23 piece
New Doctor Toys for Children Wooden Pretend Play Kit Set Games for Girls Boys Simulation Red Medical Dentist Medicine Cloth Bags
Specification:

★Item Name★ 23pcs Dentist Medical Bag Toy

★Package★ Cloth Bag

★WOOD MADE★ It is mainly made of Natural Wood.

★Varieties of Playing Scenarios★ Learning from playing, much fun. Kids can play with their friends when they are at home, or kids party.

★BEST FOR LEARNING★ Children will develop recognition skills, identification skills, fine motor and grip skills by playing this game. Improve baby's hand skills, and hand-eye coordination skill. Creative play is an important part of child development while teaching social skills, language, responsibility, compassion and more
Feature:
The stethoscope is so real that you can actually hear heat beat, Magnetic connects different parts which made easy to play, It has removable teeth, the ID Card has a place for child to fill out corresponding information, so your children can role play like a real dentist

Natural Wood & Non-toxic Paint smooth and soft edge is safe for children 3 years old and above, promotes imagination & thinking skills

23pcs accessaries, including teeth model, Stethoscope, medicine bottle, pliers, capsules 2 pcs, pills 2pcs, hammer, Thermometer, work drum, tweezers, observation mirror, molar rod, medical records, pen, toothbrush, toothpaste, CT photo, pills, tongue depressor, knife, dental floss
Great for Play:
at Home

on Vacation

with Friends

Tip:
OK to do
1. Wipe with clean cloth, do not wipe heavily in case the painting will be wiped off
2. Put it under sunshine after using, wooden toys will be affected with damp easily, put it under sunshine when the sun is shining.
Not to do
1. Do not wash it. Wooden toys will be expanded after watering.
2. Do not clean it with alcohol and wet tissue like other toys do.
FAQ
❀Q1. When will you ship out parcel after receiving the order?
Answer1. If there is no special occasion, we will ship out order within 48 hours and you can track online within 72 hours
❀Q2. When will I get the order after shipment?
Answer2. That depends on your destination country, E.G., to most of the European countries, it takes about 15 days. For some products with 10-day delivery logo, it will arrive within 10 days. We are improving our shipping speed.
❀Q3. What should I do after receiving the parcel?
Answer 3. After getting the parcel, pls check if it is in good condition and meets your desire, if yes, pls leave us positive feedback
with 5 stars, if no, come to us at AliExpress or WhatsApp (008615080648100 & 008618874485126), we will make you satisfied.
❀Q4. What is the special function of the wooden toy?
Answer4. The Wooden toy is a style of Montessori toys, it can train kid's life skills and improve kid's intelligence.
❀Q5. Do I need to pay extra fee for the parcel?
Answer 5. That depends on your country and customs, we will charge no more except what you paid at AliExpress,
pls check before placing order